"I can't stand people who do not take food seriously"- Oscar Wilde.  While few of us would admit to such extreme views, there's no doubt about it: cooking and eating can be one of life's greatest pleasures, and one that is almost always better shared with friends and family.
In the past, budding cooks had to rely on recipe books, which only contained a limited number of recipes, were at risk of being splashed with food, and depended on static printed words to teach technique. With technological advances, the world is, quite literally, your oyster! With websites and apps showcasing almost every type of cuisine, with varying levels of interactivity, the question is: what best serves your purpose? We look at tablet vs. laptop in our quest for culinary advancement…
Tablets are becoming more and more common; with their rise in popularity, a library of apps has sprung up.  There are plenty of great apps designed to help the home chef, and you can be sure that whatever cuisine takes your fancy, someone somewhere will be working on an app to bring that corner of the culinary world to your kitchen.  Let's take a look at two apps well worth a place on any discerning cook's table.
Sweet'n'spicy is a free app dedicated to the delights of Indian food.  It's simple to use and all the recipes are clearly organised into different categories, including vegetarian, non-vegetarian and vegan.  For those who are new to cooking, there is a section of recipes specially selected for beginners; festival recipes make special-occasion cooking simple; and perhaps one of the most useful collections is that for people on special diets, making catering for those with allergies or cultural needs a breeze.  It is very interactive, allowing users to rate recipes, add and view tips for many ingredients, and save favorite ingredients on a virtual shopping list.  There are plenty of videos offering step-by-step guides to cooking various dishes, and some of the tips include natural remedies, meaning that your whole body, not just your stomach, will thank you for using it!  However, it does require an internet connection, so lacks one of the major benefits of many recipe apps.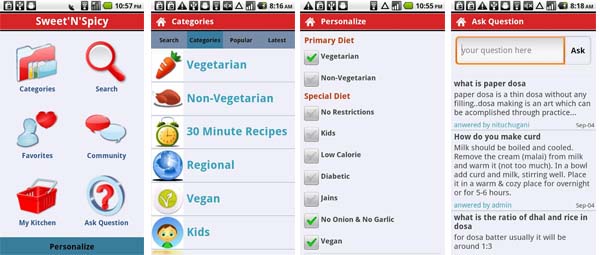 Jamie Oliver's apps offer an excellent model for other food-related apps.  Once they have been downloaded, they no longer require an internet connection to work, meaning that you can access recipes and learn techniques wherever you are, from remote holiday locations to supermarkets and beyond.  There are several different Jamie Oliver apps, including Jamie's Recipes and Jamie's Fifteen Minute Meals.  One of the great features of these apps is that they are designed for ease of use: unlike most websites, there is no need to scroll down the page, because each step of the recipes is shown, with a clear photograph, on one page; users simply swipe the screen to reach the next step.  In addition, Jamie Oliver's apps feature very clear videos teaching techniques such as how to chop vegetables safely; useful knowledge in any kitchen! The one disadvantage of the Jamie Oliver apps is that there is a cost involved, while access to his website is free.
As these reviews have shown, apps can give you the knowledge and the confidence to cook.  Using a tablet to view your recipes is convenient, as it will take up very little space on a potentially crowded kitchen counter; a tablet's touch screen is more easily wiped clean than the keys of a laptop.  The many celebrity chefs, restaurants and magazines producing new apps are a testament to their popularity and utility.
If you don't have a tablet, there is still whole host of websites dedicated to culinary pleasures.  While websites may lack the slick functionality of a well-designed app, there are many benefits to using them in the kitchen.  Websites typically hold more information, are regularly updated, and are free to use.  Websites such as http://www.sanjeevkapoor.com/ and http://showmethecurry.com/ have huge numbers of recipes and relevant articles, and users can instantly leave comments and connect to social media sitessuch as Facebook and Pinterest.  Such websites foster a sense of community, with online opinion polls and the option to sign up for newsletters.  Many websites also provide links to other sites that may be of interest, potentially sending the reader on an exciting culinary journey across the globe.
It's a good time to get cooking.  Whether you prefer to use apps or websites, or a combination of both, never before have there been more opportunities to expand your knowledge and tantalise your taste buds.
---
---
---